As I sit here writing this entry, the thunder is rumbling and I am seriously wishing I had a desk in my room. Oh well... something to think about whenever I move out. I really should be e-mailing a few people, but I am putting it off for just a bit... Don't worry, it will get done. Just, you know, in a bit... The sun was out for a while and it was completely gorgeous! I was hoping we could grill the steaks and marinated turkey breast for dinner tonight, but the rain ruined those plans. Guess it will be more leftovers. Woo.
In other news, Earth Day is April 22nd! I found an adorable cupcake idea on Pinterest and it looks like
this
. I think I might try these out! They look easy enough. Now I just wonder if we have a heart cookie cutter or if I will have to improvise. Hmm. Any excuse to make cupcakes is a good one in my opinion.
I also wanted to give a shout out to another fun blogger who has made me giggle numerous times recently:
Pintester
. I will warn that she can be a bit raunchy, but it is a great way to find out if something works or not. I have gone through my pinterest boards and deleted some of the items that she said were a fail. Others have probably been lost in the ocean wave of my numerous pins. Oops. Check out her blog and have a giggle or two!
The recipe for today is one that would have worked if the weather had cooperated. However, you could prepare this recipe inside on a griddle pan if you had to. This recipe is simple stuff, people. Simple simple simple. My mom gets to take the credit for this recipe because she sort of invented it. Maybe someone else thought of the idea first, but I didn't use a recipe, so mom gets the credit for this dish.
Chicken Kabobs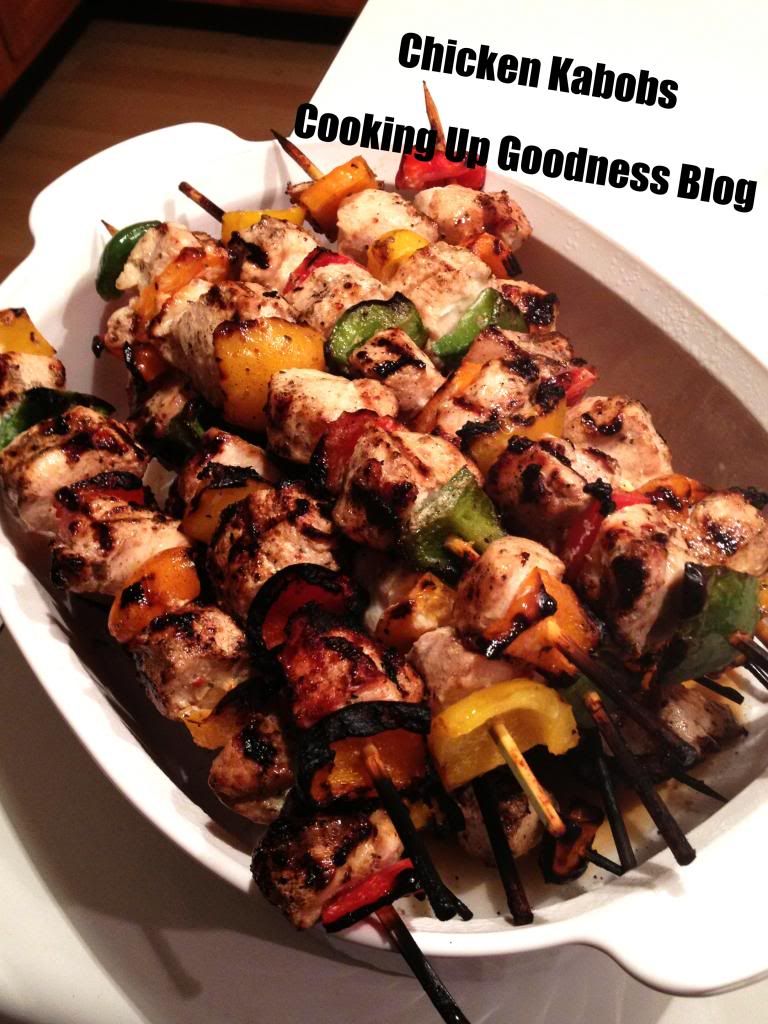 Equipment needed:
Skewers- They can be reusable ones, wooden ones, long ones, fat ones, skinny ones, or any skewers you have. The only requirement would be that they don't break in half when you put chicken and peppers on them.
A container with an air-tight secure lid that can be used for marinating the kabobs. You will be flipping this container over!

Ingredients:
2 - 4 lbs. of chicken (depends how many you are feeding and how many skewers you have), cut into chunks roughly the same size
1 bottle of dressing per 2 lbs. of chicken (We used Italian dressing.)
Colored bell peppers (orange, green, red, or yellow), cut into skewer-able chunks (We used one of each kind and used approximately 4 lbs. of chicken.)
Onions, cut into chunks (optional)
Instructions:
This might sound strange... but if you are using skewers that can catch on fire (i.e. wood) then you need to soak them in some warm water for at least 20 minutes. This will prevent them from catching on fire and hopefully prevent your hands from having burnt skewer particles on them.
Open your dressing and take the lid off of your container. Believe me, you will thank me later when you have chicken hands!
Start your skewers. I varied mine with 1 piece chicken then one pepper piece and so on so forth. If you are including onions, you could have one chicken, one pepper, one onion, but you can be as creative or as crazy as you want with as many peppers and onions as you wish.
Plop the prepared skewer into your container.
Repeat steps 3 and 4 until your chicken, skewers, peppers, and onions are used up.
Wash your hands well.
Dump the bottle(s) of dressing over your kabobs.
Place them in the fridge and let them marinate for at least 2 hours, flipping the container after one hour. These can marinate for longer, if you have the time.
Fire up the grill!
Grill the chicken until it is no longer pink on the inside. If you didn't cook them all the way through on the grill (Like I have done before), don't panic! You can pop them in the microwave for a few minutes to finish them off.
Eat and enjoy!
Time: Prep- 30 minutes, Marinating- 2 hours or more, Cooking- 20 - 30 minutes (?)
The great thing about this recipe is the fact that you can vary it to work with the dressing flavor. For example: if you wanted to use an Asian dressing you could use pieces of carrot, onion, peppers, and other flavors that would blend well. You can use homemade dressing, completely ignore the chicken and make grilled veggie kabobs, or you could choose other vegetables that you would like to grill. The possibilities are almost endless!
Love it? Hate it? Want to make it? Let me know what you think with a comment below!
As always...
P.S. If you love it, or have made it, or have any suggestions then feel free to leave me a comment! I love hearing input from my readers and would LOVE to hear from YOU! :)