Lately I've felt like I am living in limbo. The odd in-between stage. You still feel like you play a part, yet you don't completely fit in as well anymore. You know? It's a strange feeling...
The bonus of being in limbo is more time to test recipes and more time to bake and cook. I still find it fun to play with recipes and make them my own. Then again, any foodie would probably tell you that. I've recently finished reading an interesting book about the foods we eat, allergies, GMO's, and our food system. The book is called
The Unhealthy Truth: How Our Food Is Making us Sick and What we Can do About it by Robyn O'Brien with Rachel Kranz
. I borrowed this book from the library and I'll be honest... I had to put the book down a few times. It was a good read, but it sure made me sad and unhappy and mad all at the same time! If you ever wondered about the US food system or about corporate control with food then you should start with this book. It is slightly out-dated now, but all of the research is excellent. There is a long list of cited sources! If you get a chance to read it, let me know what you think!
Alas, food. It is why I started this blog in the first place! =D
The recipe for today is one that I created. It stirred up memories of when my mom used to put a little bit of butter and sugar on my rice as a special treat. We had leftover brown rice and I kept thinking about how I could transform the rice into something delicious. Well my friends, this is a rice transformation if I do say so myself! I transformed a side dish into a yummy (and somewhat healthy) dessert. Enjoy!
Sugared Rice with Fruit and Nuts
Ingredients:
1-2 TBSP of butter, melted
1 cup of leftover cooked rice, more or less
1-2 TBSP of brown sugar, or to taste
handful of cut up fruit (I used blueberries)
handful of chopped nuts (I used walnuts)
handful of dried fruit (I used raisins)
other toppings, optional
Instructions: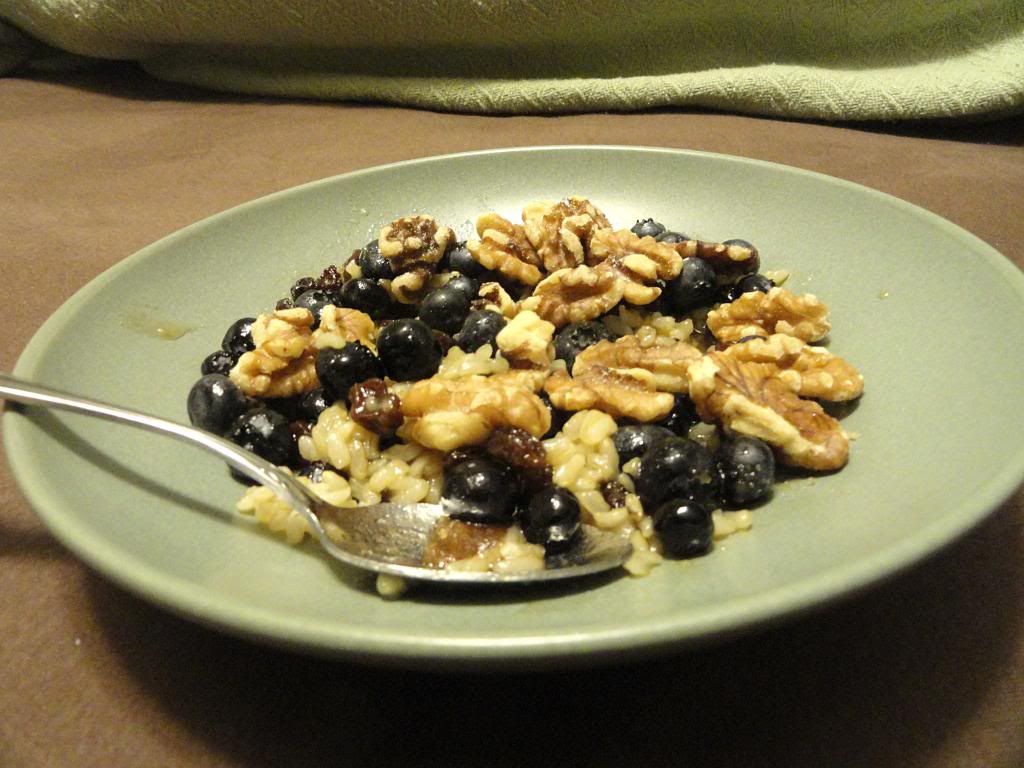 Heat up your rice until it is warmed through.
Add the butter, sugar, nuts, and fruit to the rice. If you have any other toppings, you should add them in this step as well.
Mix well and then eat.
Enjoy!
This dish is easy, doesn't require many ingredients, and can be customized to your tastes. I hope you try it out!
Love it? Hate it? Want to make it? Let me know what you think with a comment below!
As always...