The new year is a time when many of us look back at the past year and wonder if things would be different if we made different decisions . At least I sure do . Overall, I think my year was pretty decent . I also made resolutions for 2013. I won't share them since I have broken almost all of them. Haha. Oops.
I have been meaning to post this since, well... January 1st. Twenty four days later I am finally sitting down to type this up. It's sad really. However, last week was my birthday. Another year older and hopefully another year wiser. I still am making decisions about how I want to move forward. I know I definitely want to get my Master's degree... but the path there is a bit foggy. I will figure it all out though, eventually. Job hunting should probably start soon. Anyone have any motivational quotes that could spark my interest in resume writing?
>.< I'm behind, I know... but it is how it goes.
Since my birthday was last week, I wanted to post a recipe for the cake that I baked when we celebrated. This cake was the one I knew would be a hit with everyone and it was quick, so it was the only cake I had. My original plan was to have two cakes... one that I wanted and one that the family would eat, but there wasn't enough time, so only one was baked. I finally baked the cake I wanted to have yesterday, so that post is coming soon!
This cake has a crust on the top, a cakey middle, and is gooey on the bottom. I am not a fan of chocolate cake and I even liked it! Anywho, here is the recipe:
Ingredients: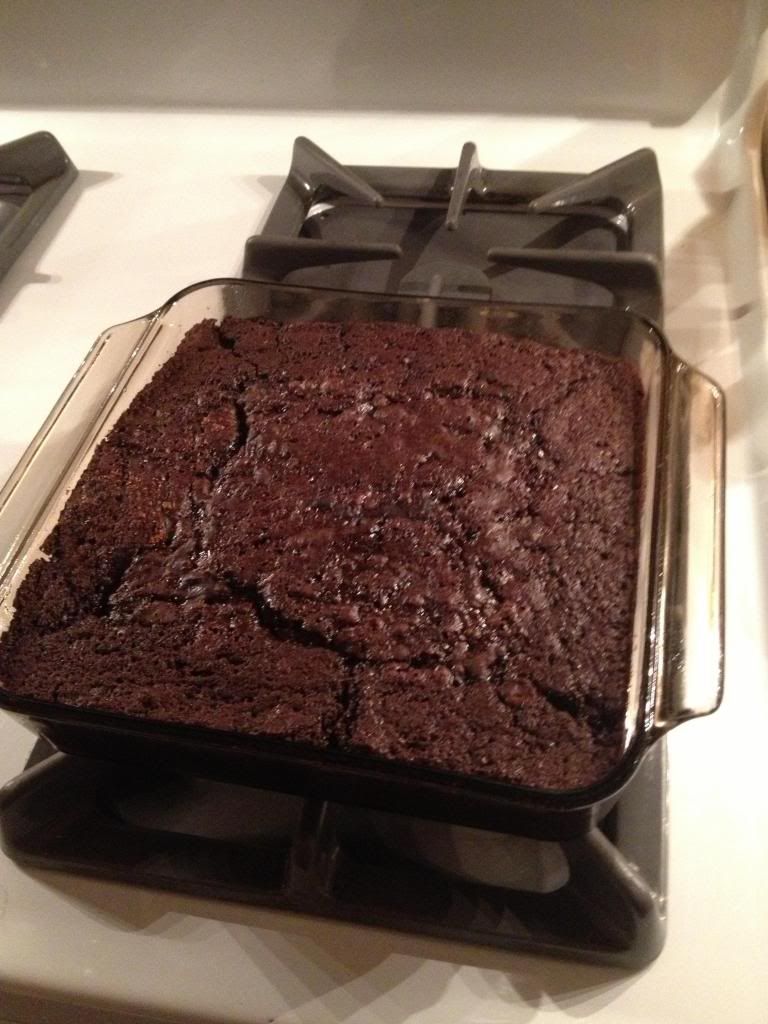 1 cup all purpose flour (plain flour)
1 cup unsweetened cocoa powder (I used Equal Exchange cocoa powder), split into 3/4 and 1/4 cup
2 tsp. baking powder
3/4 tsp. kosher salt
3/4 cup granulated sugar (white granulated sugar), split into 1/2 and 1/4 cup
1 cup whole milk
4 TBSP (half a stick) melted butter, cooled slightly
1 large egg (I used a medium egg and it was fine)
1 TBSP vanilla extract
3/4 cup dark brown sugar
1/2 to 3/4 cup strong brewed coffee, room temperature
Instructions:
Heat the oven to 350 F (180 C) and arrange a rack in the middle of the oven.
Butter/grease an 8 by 8 or 10 by 10 inch square pan. I used the 10 by 10 and adjusted the time a bit.
Combine flour, 3/4 cup of cocoa, baking powder, 1/2 cup granulated sugar, and salt in a medium bowl, stirring to break up any lumps.
Add the milk, egg, melted butter, and vanilla to the flour mix. Stir until combined. Some lumps will remain.
Pour the batter into your prepped square pan. Spread the batter out as evenly as possible.
In a small bowl, combine the 1/4 cup of cocoa powder, 3/4 cup dark brown sugar, and 1/4 cup of granulated sugar. Stir until mixed well, then sprinkle over the batter in your pan.
Pour the coffee over the batter. Do NOT stir.
Put the cake pan into the oven.
Bake for 20 - 25 minutes or until the cake is set at the edges and a bit loose in the middle. Time can vary depending on your oven and the pan you used. Use your best judgement and remember that the cake will set a little more in the middle once it cools.
Let the cake cool for 5 minutes before serving.
Servings: 5 - 8
I hope you test this delicious cake and enjoy! The family sure loved this one. It is definitely a keeper!
Love it? Hate it? Want to make it? Let me know what you think with a comment below!
As always...