Thankful Tree
Well... I am alive! I promise... seriously...
It seems time just slips away when you aren't looking and then *poof* it is almost December. Yikes! In October, (since I kindly haven't posted for over a month, oops) I attended a Blue Man concert with the family, visited the renaissance festival and bought some delicious smelling soap, sadly witnessed the closing of the farmers stand for the season, and bought apples and apple cider from the local apple farm. November was the month of prepping for Thanksgiving and helping to drive my grandparents back down south for the winter.
Thanksgiving went well, overall. My mac and cheese and the juice jigglers were a letdown, but the rest of the meal was delicious. Cooking for 27 people is not a small task, so our meal seems like something fit to feed an army. Here's the meal breakdown:
Appetizers: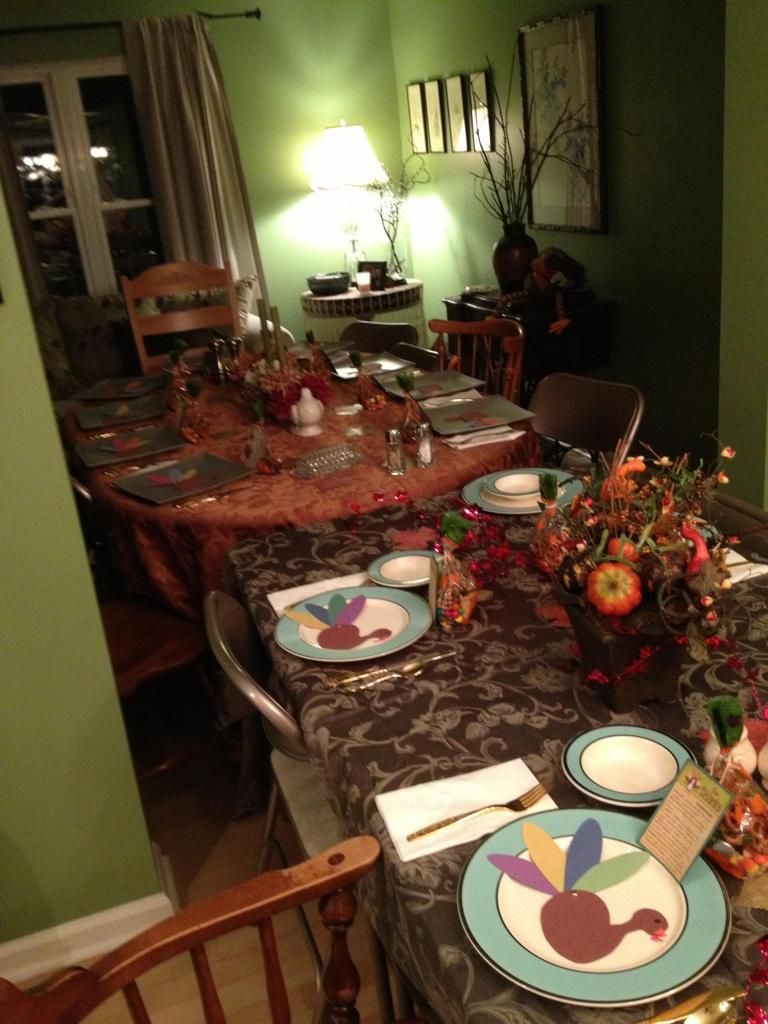 -Cheese and crackers
-
Baked Brie
(I had never eaten brie and loved this recipe! Just remember to take off the rind if you are a first timer.)
- Apple slices and caramel dip
- Candy corn
- Nuts
- Strawberries and grapes
- Juice jigglers
Meats:
- Turkey (gravy and cranberry sauce, too)
- Kielbasa
- Ham
Side Dishes: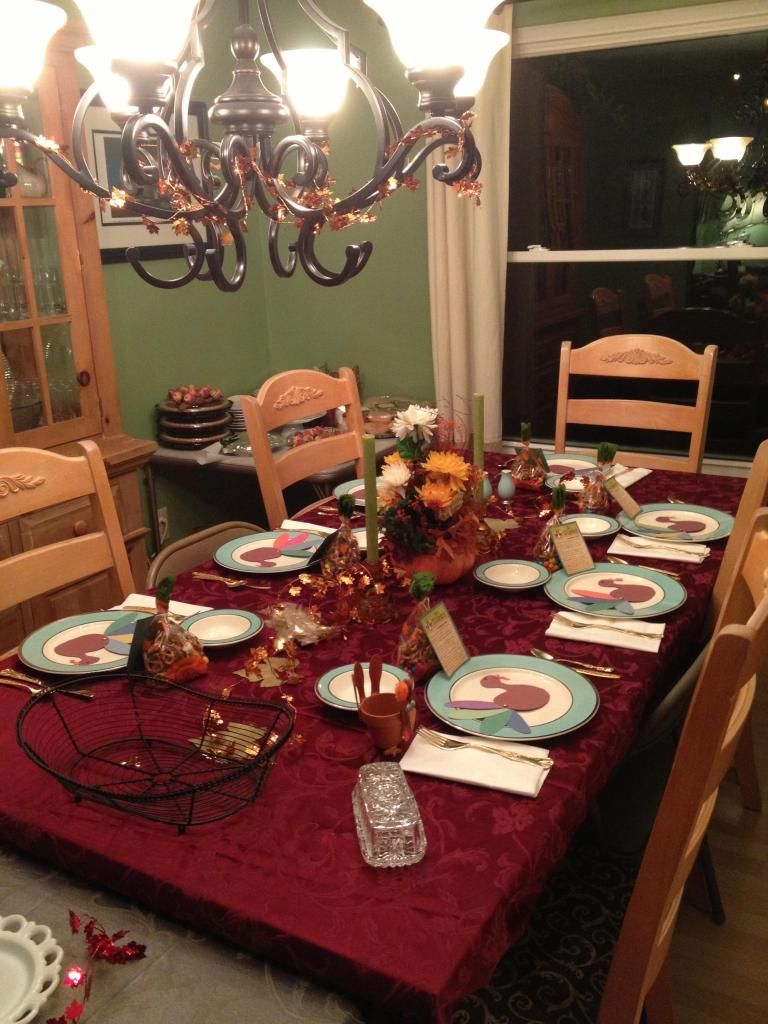 -
Sweet potato casserole
(I added more cinnamon and brown sugar.)
- Mac and cheese (failed recipe that I will not bother to link)
- Cooked carrots
- Corn
-
Whipped cream salad
-
Sweet and sour cucumbers
- Mashed potatoes
-
Green bean casserole
(My mom adds in bacon bits and some worcestershire sauce.)
-
Coffee cake
(We bought our coffee cake from a Polish marketplace, but this is quite similar.)
- Various quick breads (carrot bread, banana bread, zucchini bread)
- Dinner rolls
- Caesar Salad
-
Stuffing
(with onions, apples, raisins, and walnuts)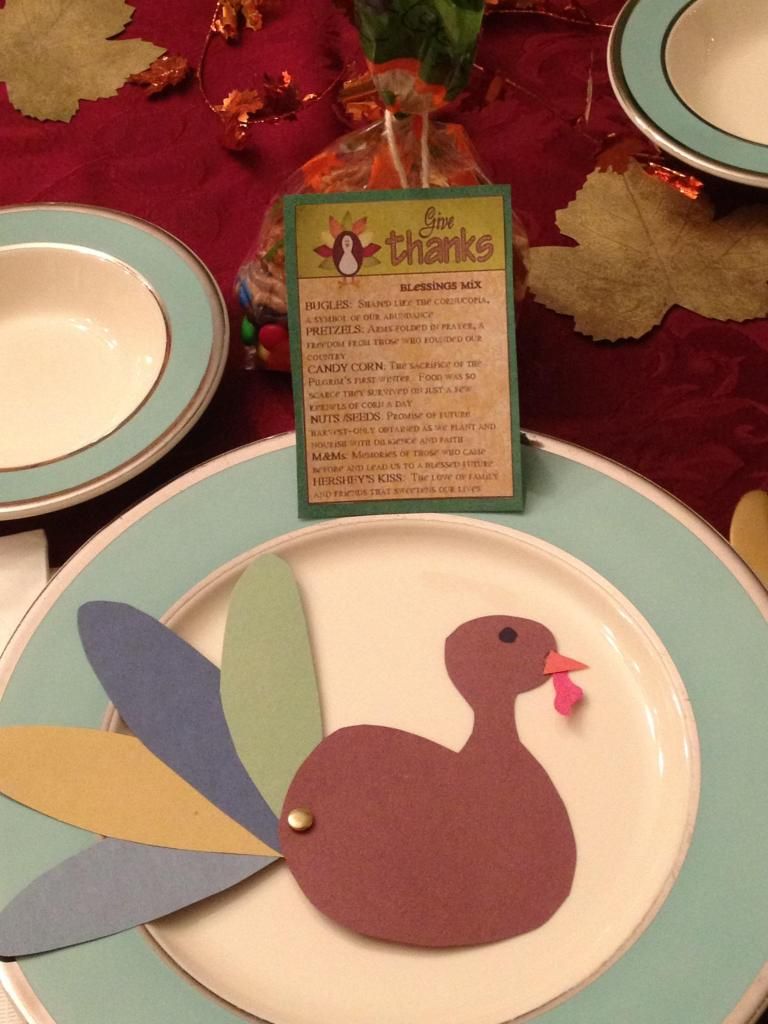 Desserts:
- Pumpkin pie
- Various other pies (almost everyone brought a pie)
- Blueberry cheesecake (my uncle brought this)
-
Mint patties
- Brownies (my aunt brought these)
- Various other items guests brought
I have linked the items that I have a specific recipe for, but I don't have all the recipe links. I also had fun with the place settings. Each person received a:
- goodie bag (either
turkey poop
or
blessing mix
)
- a paper
turkey place card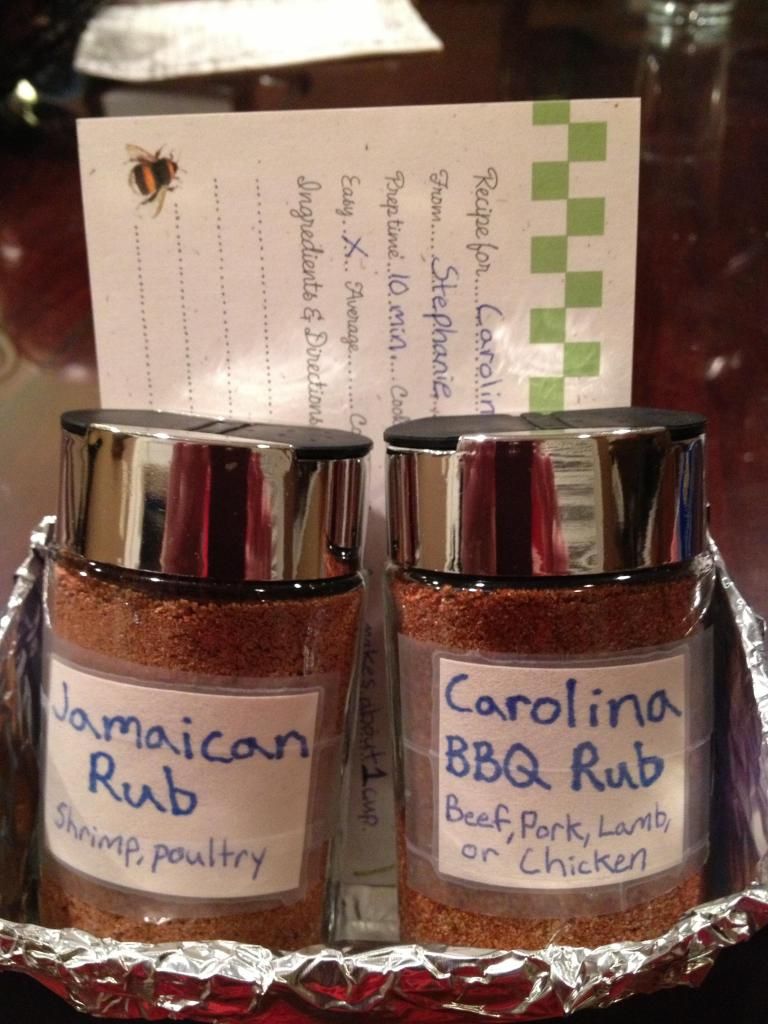 - a homemade present (
homemade spice mixes
,
homemade cornbread mix
,
homemade pancake mix
,
homemade body scrub
,
homemade hand scrub
(do not use olive oil... instead, use safflower or sunflower or canola oil!), a
snowman in a box
,
snowman soup
, or popcorn covered in white chocolate and festive sprinkles).
If you would like me to to do a tutorial or show you the poems I typed up for the snowman soup or snowman in a box, please comment and tell me so!
Feel free to take any of these ideas for your Thanksgiving next year. I hope you all had a wonderful Thanksgiving (if you celebrate it) and I hope you enjoy any or all of the recipes linked.
.
Love it? Hate it? Want to make it? Let me know what you think with a comment below!
As always...